Build a Secret Passage Door ~ DIY Hardware Kit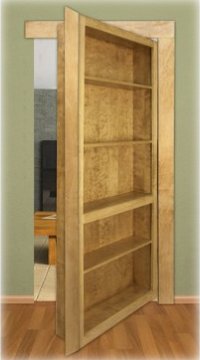 Have you always dreamed of creating a secret passageway only seen in the movies? Get this premade kit from Rockler to make it a reality in your home!



Choose from the following:
» Cherry InvisiDoor Bookcase Shelving Unit
» Maple InvisiDoor Bookcase Shelving Unit
» Red Oak InvisiDoor Bookcase Shelving Unit
» InvisiDoor Pivot Bookcase Hinge Kit

Designed to fit inside a standard-sized finished opening, the InvisiDoor Bookcase replaces your old 32'' or 36'' door with an attractive bookcase that opens smoothly with a light push or pull. It's an excellent way to utilize unused space for display or storage, and it neatly hides unattractive rooms, such as laundry rooms, closets and pantries. It's also a fun way to create a "secret room" in a child's bedroom or playroom. The rugged hardware can support 300 lbs, yet because of its unique design, everything remains in place when the door is opened.
---
InvisiDoor Bi-fold Bookcase Shelving Unit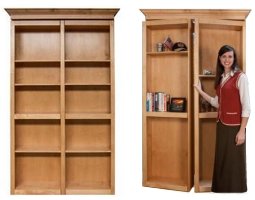 The InvisiDoor replaces your old door or passageway with an attractive bi-fold bookcase that glides smoothly out of the way with a light tug on one of the center pilasters.

The assembled bookcase includes everything you need; bookshelves, hardware, and valance. All you need to do is install! With a few simple tools, even a novice can install the bookcase in less than half a day. The bookshelves are unfinished allowing you to apply the "finishing touches" yourself!

» Wood Choices: Maple, Oak or Cherry
» Don't forget: Bi-Fold Bookcase Hardware Kit

Technical Details:
Each kit includes two bookcases
Each bookcase includes four shelves: one fixed shelf and three adjustable shelves
Approximate installation time: 3 to 4 hours
Bookcases mount to the outside of the door frame, on the wall surface - no special cutting is required
Holds 300 lbs in addition to the weight of the door
Items on shelves stay put when the door opens and closes
To fully clear the doorway when opened, selected door should be at least 12" wider than the opening
Selected door should be at least 5" wider than the opening to fully conceal the doorway
Manufacturer's lifetime warranty on the hardware
Made in USA
---
---
---

---

As an associate of the
Rockler.com
affiliate program, we receive a small commission for sales generated through links to their products. Thanks for shopping!
---