Makita Woodworker's Sanders

If you are looking for quality and depenability, you can't go wrong with Makita! We have purchased several of these in our woodworking shop ...
Search Amazon.com:

---
Ideal for woodworkers, finish carpenters and general contractors who require a best-in-class random orbit sander.
» Smooth and fast sanding with 3.0 AMP motor
» Variable speed control dial (4,000-12,000 OPM)
» Ergonomic rubberized palm grip and handle
» Adjustable front handle for sanding corners and tight areas
» Large two-finger trigger switch
» Large ⅛" random orbit action for swirl-free finish
» Pad control system for controlled pad speed on start-up
»
Replacement pad for BO5041K
---
Makita's 5-Inch Random Orbit Sander with variable speed, Model BO5031K, delivers fast, smooth performance with better grip and control.
» Smooth Finish with Variable Speed Control
» Large 1/8" Random Orbit Action
» Fast and Super Smooth Sanding
» Pad Control System for Controlled Pad Speed Upon Start-up
» Efficient Through-the-Pad Dust Collection System
» Cleaner Work Environment
» Dust Sealed Switch Minimizes Contamination
»
Replacement pad for BO5031K
---
Comfort and ease-of-use features include an ergonomically designed contoured rubberized palm grip that fits like a glove with even pressure and easy control.
» 2.0 amp motor rotates pad 14,000 OPM for finish sanding
» Engineered to operate at a low noise level with reduced vibration
» 4½" x 4" pad size
» Large clamping lever for quick, easy paper installation
» Includes abrasive paper, dust bag, punch plate and tool case
The rubber sealed switch prevents dust contamination and increases durability, while the large paper clamps are designed for fast and efficient paper installation. The efficient through-the-pad dust collection system helps provide a cleaner work environment, while the fabric dust bag has an extra wide mouth for faster disposal.
---
This belt sander features an extended base to allow flush sanding. Its 4" wide belt with a speed of 1,640 ft./min. makes for fast stock removal while its 84 dB keeps the chatter down.
The large front grip ensures operator comfort and control and an easy lever control makes changing belts a snap.
The replaceable ceramic wear plate keeps maintenance time to a minimum and the low profile provides solid balance and less gouging. With a highly efficient dust collector, the grit stays contained. This sander is double insulated.
---
This Makita sander delivers precision, accuracy, capacity, and innovation to woodworkers.
» Variable speed control dial
» Compact and lightweight (4.6 lbs.)
» Works in close quarters w/ excellent maneuverability
» Ball and needle bearing construction
» Narrow belt and exposed front pulley
» Multi-position side handle for comfortable operation
» Lock-on button for continuous operation
» Connects to dust collector for a cleaner work environment
---
» Variable speed belt sander with powerful 8.8 amp motor
» Quietest sander in its class at 85 decibals
» Unique design allows flush sanding to the corner of the wall
» Auto-tracking belt system tracks belt without adjustment
» Includes (1) 80 grit sanding belt & cloth bag
---
» Smooth and fast sanding with 3.0 AMP motor (12,000 OPM)
» Large 1/8" random orbit action for fast and super smooth sanding
» Pad control system for controlled pad speed upon start-up
» Efficient through-the-pad dust collection system
» Provides a cleaner sanding environment
» Dust sealed swith minimizes contamination
» Rubberized grip for improved operator comfort and control
» Uses quick change 5" (8 hole) hook-and-loop abrasive paper
» Oversized sealed ball bearing construction for longer tool life
»
Replacement pad for BO5030K
---
The integrated through-the-pad dust collection system on this Makita sander keeps your work environment clean. The tool can be fitted with either 3-5/8" x 9" 1/3 rd sheet abrasive paper. This sander easily hooks up to a vacuum hose for superior dust collection and the large trigger switch means smooth and easy operation. Use the powerful 10,000 OPM action to effectively remove stock while providing a fantastic smooth finish.
---
Hook & Loop Sandpaper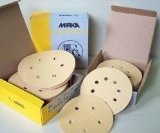 Mirka Hook-and-Loop Sanding Discs
have a special sharp, durable aluminum oxide grain that gives you a fast and exceptionally long-lasting cut.
Durable aluminum oxide, combined with urea resin over glue bonds, and an open coat create a high performance sandpaper that's the envy of the industry. Includes:
5" 5-Hole and 5" 8-Hole orbit sanders
---
---
PLEASE NOTE:
This page is a participant in the Amazon Services LLC Associates Program, an affiliate advertising program designed to provide a means for sites to earn advertising fees by advertising and linking to
Amazon.com
.