❈ Wooden Toy Kits and Project Kits
Great projects for parents and kids to work on together, Made by Me! kits, Constructables, Woodkit, EZ Build and more!

---
It's a train! It's a plane, a helicopter, a race car ... it's all these things!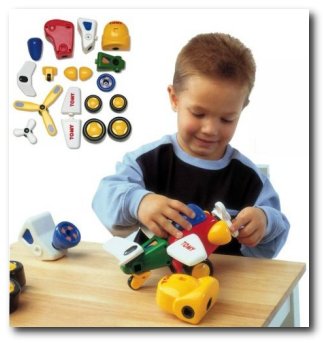 Designed for preschoolers, Constructables features a battery powered drive unit that attaches to the other 14 pieces included, for nearly endless combinations of creative combinations. ▸ View All

For fun and action, the wheels, propellers and other parts will move. Instruction Manual included to describe how to make all of the featured vehicles. Requires (1) AA Battery, not included.


More Fun Constructables & Kits

~ from Amazon.com
---
The RTB1100 classic tool box is a fun woodworking project for kids to put together with their parents, while learning how to use tools responsibly and creatively. Traditional tool box with lift out tray, made from pine wood. The project is at a beginners skill level, all hardware is included, takes stain and paint.

Tools required, not included:
▸ Clamps, Hammer, Drill, Glue
---
Made By Me! Kits

Allows children 3 and up to have a good creative and constructive time! These kits have unfinished, sanded smooth bodies, wheels and axles. The assembly instructions are under the tag. All you need is some glue, a hammer, and paints, crayons, stickers or whatever you want to use to decorate with.


Racer


Train Engine


Tugboat


Tractor


Bug
---
▸ Easy to use instructions
▸ Sandpaper included
▸ Assembles to be 9 and 1/2 inches long
▸ Shuttle bay doors open


---
▸ The challenge of puzzles with the fun of learning
▸ Perfect for the inquisitive mind ~ Ages 6+
▸ Paint or stain your model before or after it's finished
▸ Great project for parents and kids to work on together
▸ Measures approx. 8" when assembled



We are a participant in the Amazon Services LLC Associates Program, an affiliate advertising program designed to provide a means for sites to earn advertising fees by advertising and linking to
Amazon.com
.