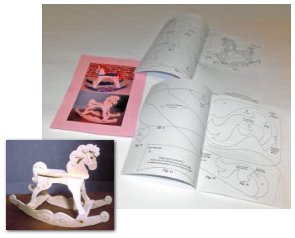 ▸ For child 18 months to 4 years
▸ Smooth rocking action
▸ Rugged design
▸ Full size drawings
▸ Fully detailed instructions
▸ Painting guides included
▸ Finely detailed trim
▸ Intermediate skill level
▸ Measures 25" H x 35" W x 13" D

---
---

❈ More Rocking Animals Project Plans:
▸ Detailed step-by-step instructions
▸ Full-size traceable patterns (where needed)
▸ In-progress photos and exploded diagrams
▸ Complete materials lists and cutting schedules
About U-Bild plans: U-Bild plans are ideal for woodworkers and do-it-yourselfers of all skill levels. Unique "trace, saw and assemble" designs feature simple-to-follow patterns (like sewing patterns) that produce professional-looking results.

We are a participant in the Amazon Services LLC Associates Program, an affiliate advertising program designed to provide a means for sites to earn advertising fees by advertising and linking to
Amazon.com
.