Search Amazon.com:


Intarsia Puzzle Boxes

You'll find these decorative handmade wooden puzzle boxes to be a thoughtful gift and perfect for collectors.
These cute, handcrafted boxes make and great gift and come in a wide variety of themes for nearly any occasion. Try choosing several contrasting styles and shapes and displaying them in odd-numbered groups of three or five. Every box is a unique, handcrafted creation and yours may vary slightly from the photos. Minor imperfections are to be expected with handmade products and add to the uniqueness and personality of each piece.
---
» Unique collector's box
» Color variations using different woods and stains
» Sliding key unlocks box
» Inner secret compartment
» Approx. 4¾" L x 3¾" W x 2⅛" H
» Handcrafted, may vary slightly from the photo




---
---
PLEASE NOTE:
We are a participant in the Amazon Services LLC Associates Program, an affiliate advertising program designed to provide a means for sites to earn advertising fees by advertising and linking to
Amazon.com
.
---
---
» Solid Walnut
» Measures: 7" x 9" x 2 ½"
» Made in the USA
» Use for Jewelry, Treasures, and Keepsakes
» Great Gift or Presentation Box
» Interior Bottom Lined w/ Black Felt
» Outside Bottom also Covered in Felt
» View Larger Image
---
---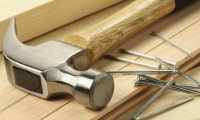 Attention Please:
The above categories go to pages dedicated to wood boxes. These pages are loaded with associate links for products we think you will find interesting and helpful. They provide us a commission for sales generated by advertising and linking to associate merchant websites. These trusted merchants include trusted sites like Amazon Superstore, Rockler Woodworking, PaperMart, Blick Arts, Michael's Arts & Crafts plus many more.