❈ DIY Ice Box Plans & Project Hardware
Choose from 3 different sources:
Rockler.com
|
WOOD® store Online
|
Amazon.com
---
- Build your own traditional styled Ice Box!
Today, the icebox is prized by antique collectors. Beyond the nostalgic appeal, buyers also value them because they can be put to so many good uses in a modern home. They make great storage cases for clothes, linens, kitchen utensils, toys - just about anything. In fact, they have become especially popular as entertainment centers as well.

Buy Hardware below ↓↓

Solid Brass Icebox Hardware ... sold separately

Solid brass hardware for your iceboxes. Reproductions of the icebox hardware of the Depression-era classics. There are many uses for reproduction iceboxes, everything from liquor and stereo cabinets to kitchen cupboards and linen closets.


Right Hand Latch


Left Hand Latch


Offset Overlay Hinges


Solid Brass Name Plate
---
Construction methods used include tongue and groove joinery and doweling. Primary building materials include hardwood plywood and cove molding. To complement a traditional appearance, authentically styled reproductions of icebox hardware should be installed.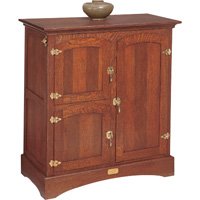 ▸ 47¼" H x 44" W x 22" Deep
▸ Get the Plans
▸ Get the Hardware Kit

This project is appropriate for intermediate woodworkers.
---
U-Bild Ice Box Plans:

▸ Authentic reproductions
▸ Step-by-step instructions
▸ Full-size traceable patterns
▸ In-progress photos
▸ Exploded diagrams
▸ Complete materials lists
▸ Cutting schedules
▸ 1-Door Ice Box Plan
▸ 2-Door Ice Box Plan

U-Bild plans are ideal for woodworkers and do-it-yourselfers of all skill levels.

Unique "trace, saw and assemble" designs feature simple-to-follow patterns that produce professional-looking results.
---
Pair of solid cast brass ⅜" offset hinges complete with single slotted screws. These hinges measure 1⅞" tall by 3½" long.

▸ Heavy Cast Brass
▸ Exclusive Antique-By-Hand Finish
▸ Authentic Reproduction of Classic Style
▸ Reversible for Left or Right Handing
---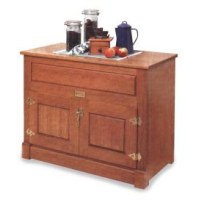 With so many traditional icebox plans on the market, WOOD store decided that something different might be in order. After researching the subject and reviewing several configurations used in building yesterday's iceboxes, they chose the "ice chest" similar to the model shown here.

This ice chest offers ample storage, and it's also the right size for use as an entertainment center. Measures: 37½" x 18¼" x 27¾" Tall.

We are a participant in the Amazon Services LLC Associates Program, an affiliate advertising program designed to provide us a means to earn advertising fees by advertising for
Amazon.com
. We are also a member of the
WOODstore.net
and
Rockler.com
affiliate programs. Thanks for shopping with us!