Ironing Board Hardware
Wall Mount ~ Fold Out ~ Drawer ~ The Ultimate in Convenience and Space-saving
---
This classic hide-away ironing board is loaded with features, including a swivel ironing board w/pad, a handy electrical outlet with on/off switch, storage shelf for iron and other items, a clothes hook, choice of three door styles and more. Designed to fit in a wall opening between studs.

42" Ventilated Metal Board
Opening: 14¼" W x 47⅛" H x 3⅞" D
Spring activated 90° left/right swivel
4" vertical adjustment
Hot iron storage, garment hook & shelf
Fully assembled - ready to install
Can be purchased with or without door
Flush mount door is unfinished
Includes full-length piano hinge
---
» Here is a view of the Ironing Board Folded Up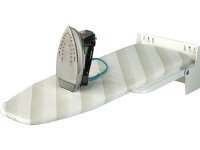 Easily mount this ironing board to a wall for the ultimate in convenience and space-saving - it's the perfect design for the laundry room! Includes one cloth ironing board cover. Board swivels 90° left and right, and locks in place in any position.

---
Designed for recessed mounting between the wall studs.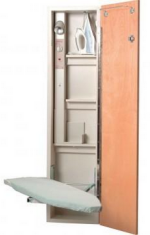 Iron-A-Way requires an opening of 14¼" wide x 47⅛" high x 3⅞" deep.



Includes the following:
» Includes Ironing Board Cover and Pad
» Premium hot iron storage
» 60 Minute Solid State, Silent Timer
» Fully assembled and ready to install
» Can be purchased with or without door
---
This unique pull-out ironing board can easily be retrofitted and folds away neatly into the space of a drawer. Ironing Board size is 12'' x 37½''.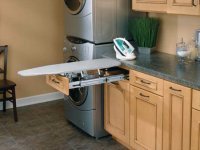 Rev-A-Shelf has ironed out the inconvenience of storing and setting up that bulky ironing board with the introduction of its VIB series.



» Finish: Chrome
» Brand: Rev-A-Shelf
---
A special board for ironing sleeves is readily accessible by simply flipping back the top board.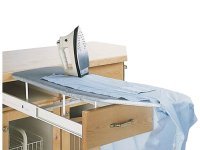 Folding Ironing Board fits right into a drawer ... the perfect answer where space is at a premium. This ingenious mechanism unfolds and pops-up a full ironing board just by opening the drawer.



» Full board measures 37½'' x 12''
» Optional sleeve board available
---
Mounts quickly and easily to the surface of any wall.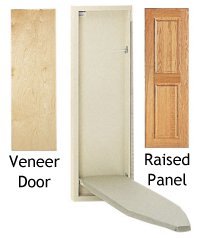 No need to cut any wallboard! Use this cabinet with ironing board to save space and reduce the hassles associated with traditional ironing boards.



» Ironing Board measures: 42'' long
» Outside door dimensions: 15⅜ x 47-7/8''
» Cabinet projects only 3'' away from wall
» Oak Raised Panel, Maple Raised Panel, Birch Veneer
» You can also Supply or Make Your Own Door
---
---
---

---

As an associate of the
Rockler.com
affiliate program, we receive a small commission for sales generated through links to their products. Thanks for shopping!
---