Halloween Woodcrafting Yard Art Plans & Patterns

Large-Format Paper Plan:
These plans are mailed via USPS and typically arrive within 7-10 days.
---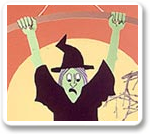 This down-on-her-luck witch measures 47" top to bottom and can be cut to shape in less than an hour. Easy-to-follow painting instructions and full-sized patterns make building this project a snap ...

---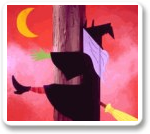 Ouch! This tree-hugging grandma of Halloween could definitely use better directions, like the kind we give you to make this whimsical 48"-tall yard decoration. And with our full-size patterns, you can knock out the construction and painting in an evening, which is quite a trick ...

---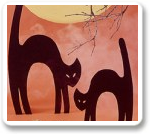 No bad luck with this pair of Halloween felines, just lots of second glances. Simply transfer the full-sized patterns for our 36" and 26" tall cats to 1/2" sheet goods, cut to shape, and paint'em black. Setting your yard apart this trick-or-treat season doesn't get much simpler ...

---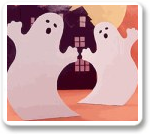 A bit too friendly to do much scaring, this haunted duo will liven up any yard come Halloween. Cut from 1/2" plywood and painted all white, these not so unfriendly 32"-tall ghosts will be in your front yard in no time ...

---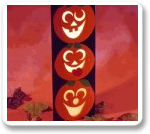 Light the way for little trick-or-treater's with this friendly trio of smiling Jack o' Lanterns. Our plans provide instructions and full-size patterns for a 36" tall tower, along with drawings for safe wiring ...

---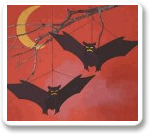 Have fun this Halloween by dangling a few of these winged critters from tree or house overhang. Painted black with orange eyes that almost glow in the dark, our bats have a two-foot wing span. You can easily cut and paint a sizeable flock in just a few hours. ~ 24" Wing span ...

---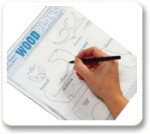 Smudge-proof, long-lasting sheets. Erasable lines that can be easily painted over. Perfect for transferring the full-sized patterns to plywood. To use, simply place the transfer paper between the full-sized pattern and plywood, and trace the pattern onto the plywood. Can be used numerous times ...

---
This free script provided by JavaScript Kit
---

As a participant in the WOOD Store Affiliate Program, we earn advertising fees by advertising and linking to
WOODstore.net
.