❈ Game Pieces and Templates
... in association with
Rockler.com

Bump up the quality of your cribbage boards by a peg or three with our new Extra-Large Cribbage Template, a larger, more spacious layout designed specifically for our new ¼'' Deluxe Cribbage Pegs.

The two piece template includes indexing pins which allow you to line up the templates in order to create the tracks in the middle of the board. The template also includes the ¼'' self-centering bit required for drilling the larger holes - a great value.
---
Our templates let you drill 100 holes or more in minutes - making it easier than ever to create lots of games quickly, accurately, and with excellent repeatability!

Durable 1/4'' Plexiglas templates for making game boards, great for making gifts or larger quantities.
---
Templates let you drill 100 holes or more in minutes - making it easier than ever to create lots of games quickly, accurately, and with excellent repeatability!

This durable ¼'' Plexiglas template for making a Chinese Checkers game board is great for making gifts for others or yourself! Chinese Checkers template includes a drilling template for marbles (star pattern).



Don't forget to buy the appropriate bits! For routing the valleys to store marbles not in play, use the Plunge Ball Marble Storage Router Bit. Also, our exclusive drilling bit for marble games fits these templates to cut a clean, perfect recess so you don't lose your marbles in play.
---
Build a chessboard so fine, it's fit for a king or a queen! The uniquely designed chessboard top works with natural wood movement to keep the top stable.

» Two built-in drawers - perfect for hiding away your chess pieces
» Plan is a reprint from issue 48 of Today's Woodworker magazine
» Also available: Chess Board Hardware Kit
---
Craft your own wooden dominoes from any species of wood! Makes an excellent gift that'll have people "lining up" at the table for some fun and games.

Simply use the included bit and templates to drill the "spots" in your blank, then cut out your dominoes. The guide notches provide easy reference for cutting accuracy.

Two templates makes one full set of double-six dominoes (28 tiles). Includes two drilling templates and a spring-loaded, hex-shank Domino Drill Bit. Finished tiles measure approximately 1" x 2". Templates measure 4⅜" x 10".
---
Looking for a fun project for yourself or as a gift? Check out our FREE Veneered Checkerboard EZ Plan with step-by-step instructions and a suggested materials list. Complement your checkers table with these beautiful hardwood checkers!

» (30) hardwood checkers (15 light, 15 dark)
» Dimensions: 1-1/4" wide by 5/16" thick
» Includes FREE Veneered Checkerboard Plan
---
Game Pegs and Marbles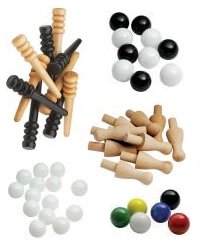 » Wood Cribbage Pegs 10 pk
» Wooden Game Pegs 10 pk

» Tic-Tac-Toe Marbles (#41022)
(5) White marbles
(5) Black marbles

» Last Man Standing Marbles (#41029)
(14) White marbles

» Chinese Checkers Marbles (#41015)
(60) Marbles in 6 colors per package
---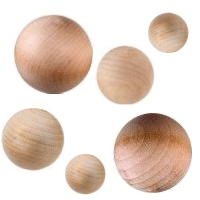 These perfect spheres, in a variety of diameters, are made of Northern White Birch and are undrilled, unfinished and tumble sanded.

» Wooden balls perfect spheres
» Great for making toys, models, crafts and decoration
» 1" ball comes in a pack of 25
» 1¼" and 1½" come in packs of 10
» Larger sizes are sold individually
---
You're always ready to start a project or make repairs with these kits in your shop.

Contains an assortment of over 250 Oak and Birch buttons, flat top and dome head plugs in plastic storage container. Sturdy plastic container has six compartments and measures 7⅛" x 3½" x 1¼".
---
Dowel Rods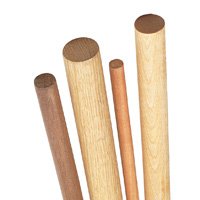 Fine quality and smoothly sanded. Minimum order for dowel rods is $5.00. Choose from the following wood species:

» Birch - 36" Dowel Rods
» Walnut - 36" Dowel Rods
» Cherry - 36" Dowel Rods
» Oak - 48" Dowel Rods
» Walnut - 48" Dowel Rods
---
---
---

---

As an associate of the
Rockler.com
affiliate program, we receive a small commission for sales generated through links to their products. Thanks for shopping!
---