The Enigma-e Wood Box Kit

We closed our shop in 2015. We no longer build these kits. This is just a tutorial on how to assemble one of our Enigma-e Wood Box Kits. ~ Dan & Deb McBride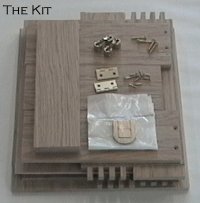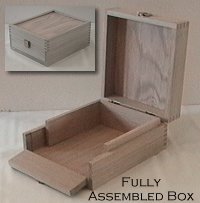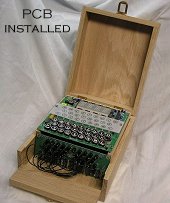 ❈ Parts Included in This Kit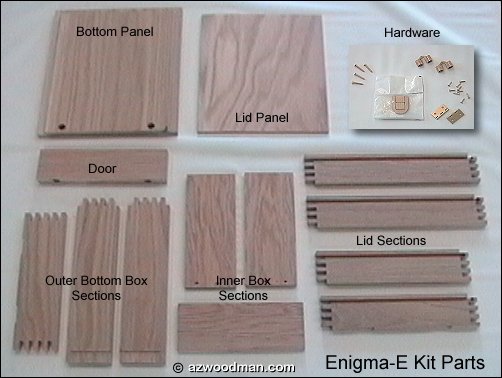 ❈ Enigma-E Box Kit Assembly Instructions
Step 1: Inner Box Assembly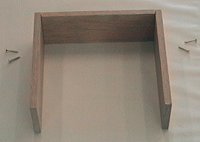 ▸ Assemble box with (4) # 4 x 3/4" screws.
▸ Do not apply glue at this time.



Applying wax or soap to the screw threads will help the srews go into the Oak easier.
Step 2: Lower Outside Box Assembly
▸ Apply glue to finger joints and assemble.
▸ Insert inner box to make sure you get a proper fit.
▸ Use the front door as a 'spacer' only while gluing and clamping.
▸ Once clamped, remove inner box.
▸ Leave door in while glue dries, then remove later.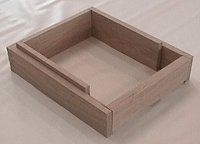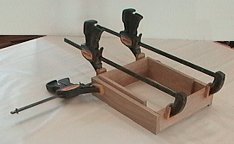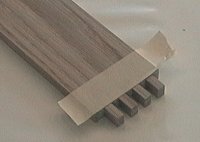 To eliminate excess glue from forming on the inside, we use masking tape along the inside joint edges.

Tape is then removed while glue is still wet, leaving nice, clean inside corners.
Step 3: Lid Assembly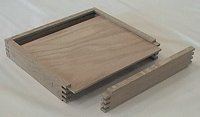 Apply glue and make sure your 1/4" veneer panel is in place before clamping.



A good idea is to clamp top and bottom at the same time for proper alignment.
Step 4: Lower Outside Box Bottom Assembly
▸ Attached assembled box section to the bottom panel.
▸ Make sure front edges are even with bottom panel.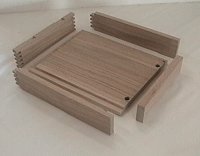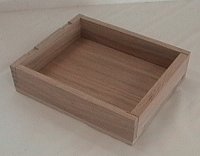 You may want to put your door in place using small pieces of paper on each side for spacing before gluing, screwing or nailing the bottom on. This will insure that the door fits properly.
Step 5: Securing Inner Box to Outside Box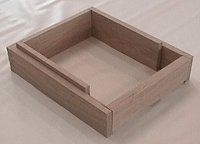 After the bottom panel is on, you can secure the inner box to the outer box using glue, screws or nails.



It would be a good idea to position the PCB's making sure you have clearance for any and all interior electrical components, wiring, etc.

Additional notching may be required for proper fit.
Step 6: Front Hinges Installation
▸ The 10mm barrel hinges are used for the front door.
▸ These are easily pressed in or tapped in using a large nail-set tool.
▸ Each hinge has a 'set screw' that will need to be loosened prior to insertion.
▸ After installation, tightened the screws. (add'l barrel screws may be included)

Once these hinges are in, do not attempt to remove these hinges!
Doing so may result in damage to the hinge and/or the box.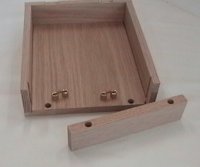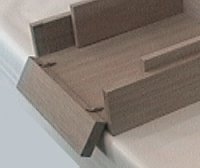 Step 7: Back Hinges Installation
Standard butt hinges are used for the lid/back of box. They have been pre-drilled for easy installation. (NOTE: Hinges with 'rounded corners' may be used in place of the ones shown here.)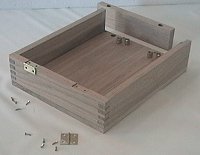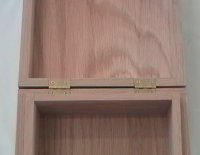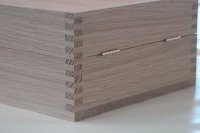 We suggest clamping the box together, then do the finish sanding on the 'back side only' prior to installing the butt hinges.

It is more difficult to sand around these hinges once they are in place.
Step 8: Putty, Sanding & Finishing
▸ With everything in place, you can now proceed with the wood filler or putty.
▸ Finish sanding on the sides, front and bottom.
▸ Apply whatever stain, lacquer, varnish, etc.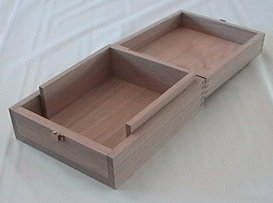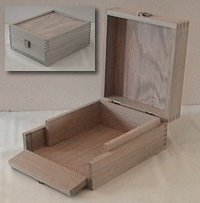 Step 8: Step 9: Front Catch Installation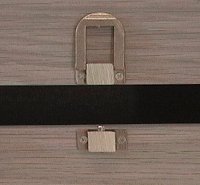 You might want to have all the finish work done before attaching the front catch. To ensure proper alignment, we decided not to 'pre-drill' for the latch screw holes. Postion it where you want it, mark and pre-drill the screw holes, then attach the catch. Again, using wax or soap on the screw threads will make inserting the screws much easier.


Copyright © 2015 ~ Arizona Specialty Woodcrafts
---

---