Contrasting Wood Joints for Custom Boxes
Handcrafted by Dan & Deb McBride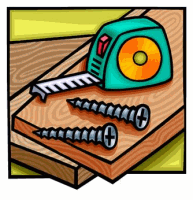 Incorporating contrasting woods in a custom wood box adds a 3 dimensional look and feel as well as adding a decorative touch to an otherwise ordinary box. This is especially noticeable in the corner joints for dovetail joints, finger joints and spline-miter joints, as shown below. Walnut with Maple was a favorite among our clients. Trim around the base, wooden feet and contrasting wood for the box lid offered great options for adding a contrasting wood effect.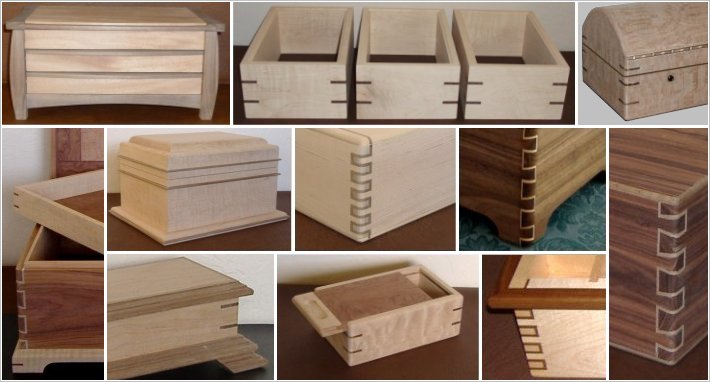 Corner Joint Styles ~ by azWoodman.com

---
Box Joints: Information about Basic Box Joints
Data compliments of Dan & Deb McBride ~ azwoodman.com
❈ BUTT JOINT
The butt joint is the simplest and least expensive of all joints. It is considered a rather weak joint, however, they can be strengthen using TiteBond® II Glue and perhaps brads. Corner blocks can be added for some projects. A slide-lid box works well with this joint style for function and fitting.
❈ MITERED JOINT
Made by mitering each corner at a 45° angle. It hides the end grain and provides a larger gluing area and can be held together with nails or screws. We recommend this joint for boxes made out of woodgrain veneer. Corners can be strengthened by adding corner splines. Plywood edges can be covered with edge banding.
❈ RABBET / DOUBLE RABBET BUTT JOINT
The rabbet-butt joint is stronger and more rigid than a butt joint, and is one of our most requested corner styles for crafters who plan to paint the outside of their boxes.

Some of the end grain will show which can add a decorative touch. This joint is not recommended for woodgrain veneers.
❈ FINGER JOINT
The finger joint is a strong, interlocking corner joint that adds a decorative touch to our custom boxes. For boxes 5" or less in height, we recommend this joint. It is a little more difficult to make, so we use our Woodrat joinery machine.
❈ DOVETAIL JOINT
Here is a strong joint that adds a decorative touch to a custom box. These are little more labor intensive. We use our Leigh Dovetail Jig, for beautiful joints everytime. These joints have very good mechanical strength held together with water-resistant glue.
---