Choosing Hinges for Your Project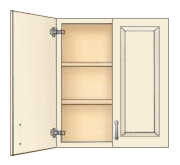 When it comes to cabinets, a lot hinges on the hinges. Their style and functionality have a huge effect on the overall appearance and performance of your cabinets and doors, maybe as much as the choice of wood or finish. The good news is that a wide range of hinge options are available, so there's an excellent chance there's a hinge out there that's right for your application.
But with so many choices, how do you find it? Probably the best place to start is to figure out what type of cabinets and doors you have because that's typically how hinges are broadly categorized.
---
1. Determine Cabinet Type
There are two basic types of cabinets (with corresponding hinges):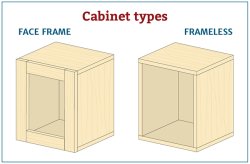 ▸
Face-frame Cabinets
:
These incorporate a frame (often made from 1½" to 2" wide solid wood) that is attached to the front edges, or face, of the case. Hinges mount to this face frame. This is the most common style in American cabinets.
▸
Frameless Cabinets
:
These are essentially a 4-sided box, typically made from ¾" thick stock. Hinges mount to the cabinet interior. Frameless cabinets also are sometimes called Euro-style cabinets.
---
2. Determine Door Overlay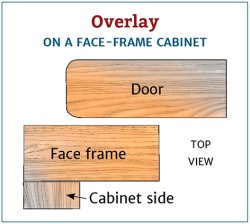 This has to do with the position of the door in relation to the cabinet opening. The configurations for frameless and face-frame cabinets are slightly different.
---
❈ Overlay Types for Face-frame Cabinets
▸
Overlay Doors
:
They do exactly what the name implies, they cover the cabinet opening completely, overlapping the cabinet case or face frame on all sides.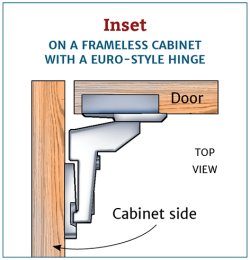 ▸
Inset Doors:
By contrast, these fit entirely within the cabinet opening and sit flush with the cabinet sides or face frames when in the closed position.
▸
Partial-inset, ⅜" Inset or Lipped Doors
: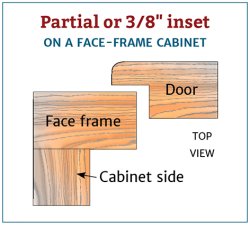 These overlap the cabinet opening slightly on all sides, but a ⅜" x ⅜" shoulder machined along all edges on the back of the door allows part of the door thickness to sit inside the opening.
---
❈ Overlay Types for Frameless Cabinets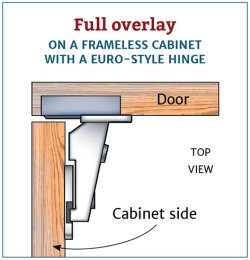 ▸
Full overlay
:
A full-overlay door covers all or nearly all of the front edge of the cabinet. This overlay type typically is used for doors at the ends of a cabinet.
▸
Half Overlay Cabinet
: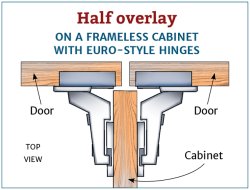 This overlay type is commonly used in the middle of a run of cabinets where the doors share a single partition wall. This hinge will allow the door to cover half of the partition wall (or approximately ⅜").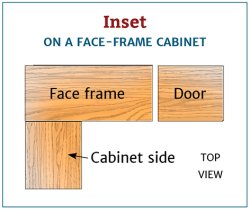 Don't confuse this with ½" overlay, which will allow a door to cover up the cabinet or face frame by ½".
▸
Inset on Face-frame Cabinets
:
As on face-frame cabinets, inset door on frameless cabinets fit within the cabinet opening and sit flush with the front edges of the cabinet.
---

---

As an associate of the
Rockler.com
affiliate program, we receive a small commission for sales generated through links to their products. Thanks for shopping!