❈ Build Your Own Bed: Woodworking Plans
in association with Woodstore.net

Digital Download: Downloads are delivered instantly to your email inbox upon receipt of payment. If you are ordering a downloadable plan, article, or back issue you will need a PDF viewer, such as the free Adobe Reader.



Mail-Direct: Printed plans and physical products are mailed via USPS and typically arrive within 7-10 days.
---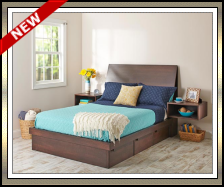 The closets are full, but those sweaters and spare bedsheets still need a home. With a contemporary look that blends with any decor, this captain's bed offers stylish, under-the-deck storage. Conceal those pesky throw pillows behind the fold-down headboard. Need a hiding place for those Christmas presents? Stow them in the secret compartments running down the center of the bed.

▸ Download Now
---
A little traditional, a little modern, this stylish queen-size bed lends a fresh look to most interiors. Its design features the graceful curves of a classic sleigh bed, while incorporating straightforward construction. The timeless appearance of the cherry raised panels nicely complements the bright and clean lines of the solid-maple frame.

Steps in this wood plan include:
1. For smooth sledding, shape the upper rails first
2. Next up, the lower rails and mullions
3. Make the shapely sleigh-bed legs
4. And now, the bed rails
5. Let's glue up and rout the cherry panels
6. Time for this sleigh to cross the finish line
---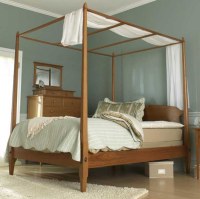 Slender tapered bedposts give the pencil-post bed it name. Topped with a canopy, called a tester, this beauty fits many decorating styles. Plus they've added in-depth information on attaching the bed-bolt brackets that make this bed easy to disassemble and move. Includes plans for building and using the taper jig to make the graceful pencil post legs.

▸ Overall Bed Dimensions: 84" long x 64" wide x 84" high
▸ Also see: Matching Pencil Post Nightstand
---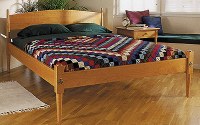 Designed and built for a queen-sized bed. For ease in assembly and moving, the bed features knock-down hardware.

▸ Measures 87" long x 68" wide
▸ Headboard is 36" tall
---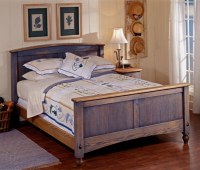 Dreamland takes on a whole new look with this solid-oak queen-size bed design. Frame-and-panel construction makes for lifelong endurance. Other members of the set are available as separate downloadable plans.

▸ Measures 88⅛" long x 67½" wide
▸ Headboard stands 43¼" tall
---
Whether you need a double, queen, or king, this bed fills the bill, and does so in grand style. By simply changing the dimensions of a few parts and the quantity of spindles, as specified in the Materials List, you can build the bed in several sizes.

Steps in this wood plan include:
1. Start by wrapping up some fabulous legs
2. Next craft the rails for the headboard and footboard
3. Time for the spindle strips, fillers, and spindles
4. Check the fit of the parts we've made so far
5. Fashion tops, corbels, side rails & support slats
6. Head for the finish, and put it all together
---
---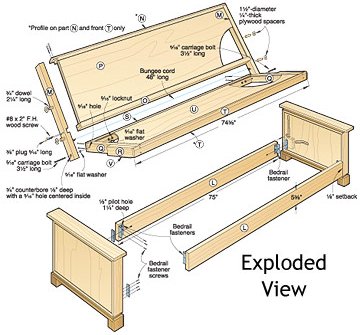 This sofa/sleeper is a great addition to the den, family room, or home office that can be used as a guest room.

Start by building this fine sofa/sleeper as the first piece of the living room set, then add the matching pieces!

▸ Sleeping Beauty Futon Plans
▸ Television Stand Plans
▸ KD Modular Shelving Unit Plans

These additional items will round out the set, sharing the same crisp lines and simple construction. This sofa/sleeper uses a standard futon mattress. While upright, it measures 30" deep x 80" long x 32" tall.
---

Like a best friend, this bed grows up with your child. Starting as a crib for a newborn, this 'Sleep System' easily changes into a bed for a toddler, and then into a full bed, serving a child well past adolescence. Simple decorative connector bolts and concealed cross dowels make these quick changes possible. Build all the parts now and be years ahead, or choose any one of the three beds to meet current needs.
---
Featuring groove-and-panel construction and decorative arch details, its modest styling makes it a good fit in any setting.

Build just one for a single bed, or construct a pair and stack them. Either way, the strudy construction will withstand the most rambunctious children.

Steps in this wood plan include:
1. Start with the legs
2. Next up, the headboard and footboard
3. Fashion the post caps
4. Add the bedrails and mattress platform
5. For bunk beds, make dowels and guardrails
6. To reach the upper bunk, make a ladder
7. Finishing and final assembly
8. Setting up bunk beds

As a participant in the WOOD Store Affiliate Program, we earn advertising fees by advertising and linking to
WOODstore.net
.