❈ Select Antique Hardware
---
This swing latch features a thicker, rounded look that adds style and sophistication to your jewelry boxes, and is comfortable to the touch.
Pivot point is fastened with a slight amount of friction so it stays put, whether in the closed or open position. Available in two finishes, polished brass or antique brass. Each swing latch includes one latch, one catch and mounting screws. Made in USA.
---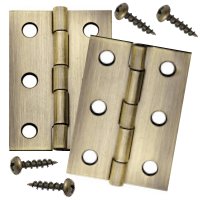 Attractive hinges sized for a variety of medium to small-scale projects such as chests, cases, small boxes-even cabinets. Each one has been sufficiently lacquered to resist tarnishing. Flat-backed to permit surface mounting. Matching screws included.

▸ Item # 20833: 1-1/2" L x 1" W
▸ Item # 28566: 2" L x 1-3/16" W
---
---

---

As an associate of the
Rockler.com
affiliate program, we receive a small commission for sales generated through links to their products. Thanks for shopping!