Woodworking Kits: For the Birds!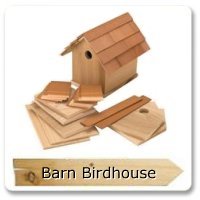 Remember the days of building something with your dad or granddad? These Sawdust Brothers First Kits are the perfect projects to help you make more cherished memories with your child or grandchild. Constructed from quality hardwood, these kits feature real Cedar shakes for the roof and trim to create windows. Paint or decorate the birdhouses, bird feeder or bat house to suit any style. Kits include pre-cut pieces, detailed instructions, and the fasteners needed to complete the project.
---
---
This free script provided by JavaScript Kit
---

We are a participant in the Amazon Services LLC Associates Program, an affiliate advertising program designed to provide a means for sites to earn advertising fees by advertising and linking to
Amazon.com
.