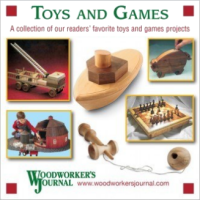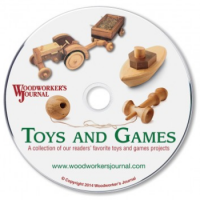 With 25 fun-filled projects, including toy vehicles, puzzles, musical instruments and games, this collection of our readers' favorite projects is sure to up the fun factor for your shop as well as for the little ones. So get started today creating wholesome fun for the whole family! This CD will guide you, step-by-step, through each and every project.
Projects on this CD Include:
▸ Round Barn
▸ Kendama Game
▸ Cricket Xylophone
▸ Kaleidoscope
▸ Tugboat
▸ Grasshopper
▸ Chess Set
▸ Sawyer Whirligig
▸ Teddy Bear Puzzle
▸ Toy Crane
▸ Kid's Bobsled
▸ Rocking Horse
▸ Fire Truck
▸ Riding Biplane
▸ Kid's Piggy Bank
▸ Tractor and Wagon
▸ Kitchen Play Center
▸ Colonial Dollhouse
▸ Colonial Dollhouse
▸ Kalimba Piano
▸ Doll Bed
▸ Box Drum
▸ Skittles Game
▸ Art Deco Dart Board
▸ Roller Ball Game
▸ Toy Steam Roller
▸ Buy it now!
---
This free script provided by JavaScript Kit
---

PLEASE NOTE:
We are a participant in the Rockler Woodworking Affiliate Program, an advertising program designed to provide a means for us to earn advertising fees by linking to
Rockler.com
.