Solid Wood Military Hat Box
Each hat box is hand-crafted from solid, kiln-dried wood. They have two coats of clear conversion varnish meeting all environmental regulations.

---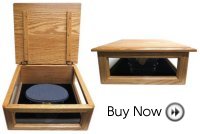 » Hand-crafted from solid, kiln-dried Oak
» Includes viewing glass in front and both sides
» Hinged lid w/ Magnetic catch
» Standard black felt on inside floor
» 17" W x 16 ¾" D x 9" H (O.D. - including lid)
---
---
This free script provided by JavaScript Kit
---

We are a participant in the Amazon Services LLC Associates Program, an affiliate advertising program designed to provide a means for sites to earn advertising fees by advertising and linking to
Amazon.com
.