❈ Motorworks Toy Vehicles
... with Interchangeable Parts

These great cars are constructed from solid Beech wood and easy for small children to hold. Each Motorworks vehicle has interchangable parts. These parts such as plastic wheels, rims, windshields, decals, fenders, spoilers and other more that can be removed and placed on other cars of this collection!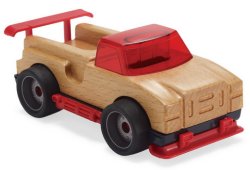 Roll it, race it and interchange it! The Motorworks FSS Flareside Truck 1.0 has a one of a kind interchangeable heavy-duty pickup truck design with red hot accents.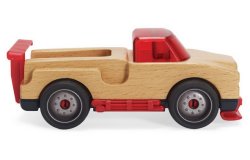 Made of European beech wood with highly detailed body features such as front and tail lights, a cool front grill and other aerodynamic call-outs. This durable car features a black convertible chassis that allows you to snap-on other Motorworks accessories.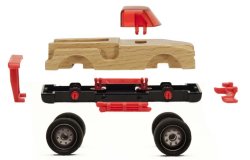 Plus, its removable wheels, grey rims, red spoiler, front air dam and red side vents accessories and red cab can interchange with other Motorworks vehicles. Built for infinite possibilities, the FSS Flareside Truck 1.0 is just one of the many customize-able vehicles in the Motorworks collection.
---
↓ More from the Motorworks Collection ...
---
↓ Motorworks Accessory Kits ...

We are a participant in the Amazon Services LLC Associates Program, an affiliate advertising program designed to provide a means for sites to earn advertising fees by advertising and linking to
Amazon.com
.