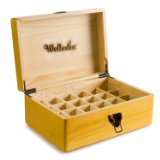 ← This box holds 24 essential oils, for bottle sizes ranging from 5 ML up to 30 ML. The logo engraved wooden box is lightweight and compact, making it easy to transport your oils wherever you go. It also serves as a beautiful display case for your oils when making presentations.
---
---
---
❈ More Essential Oils Cases for Presentation
---
Adding several essential oils into the water, the scent diffuser will release lovely aroma and mist to refresh the air quality.

» Sleek Tulip Style
» Wood Grain Finish
» Timed Setting
» Mist Control
» Waterless Auto Shut-Off Function
» Extremely Quiet
» 7 Rotating Colored Lights
» Can be used as a Ioniser, Air Purifier and Night Lamp
» View Larger Image
---

---
PLEASE NOTE:
This page is a participant in the Amazon Services LLC Associates Program, an affiliate advertising program designed to provide a means for sites to earn advertising fees by advertising and linking to
Amazon.com
.